YTS's suite of Energy Management and Home Automation services enables remote control, automation and intelligent optimization of lights, thermostats, locks and garage doors.

By integrating energy management and home automation with the security platform, data becomes a valuable asset allowing for informed decisions to better manage your home. Leveraging the door, window and motion sensors helps optimize and automate energy usage better than any stand alone device.

Turn lights and appliances off or on based on time of day, security system arming or disarming, and other triggers. Randomize lights to make your home appear occupied when away.
Smart Thermostat Schedules & Location-Based Settings
Adjust and optimize your thermostat settings based on actual activity patterns throughout your home as captured by your door, window and motion sensors.
Use your phone's location to trigger automatic adjustments to your thermostat. For example, set your thermostat to automatically adjust to an energy saving temperature when you drive away from home, and adjust to a more comfortable setting when you leave work to return home.

Lock or unlock doors from anywhere using the Alarm.com mobile app. Using locks and deadbolts with keypads, you can give service personel or guests access the locks you want when you want. These smart locks communicate with the security panel to automatically disarm the system when a valid code is entered. Have the system automatically lock your doors when arming the system or unlock doors in the event of a fire detected by system smoke detectors.
Garage Doors
YTS offers the only interactive security platform to have fully integrated functionality with most garage door manufacturers. Using patented two-way communication technology, MyQ®, you can easily upgrade your garage door so that it is completely connected with your entire Alarm.com ecosystem. Manage and control your garage door using your Alarm.com mobile app no matter where you are.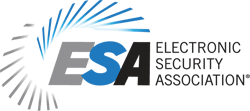 YTS is a member of the Electronic Security Association