It's more than a phone system. It's a better way to communicate.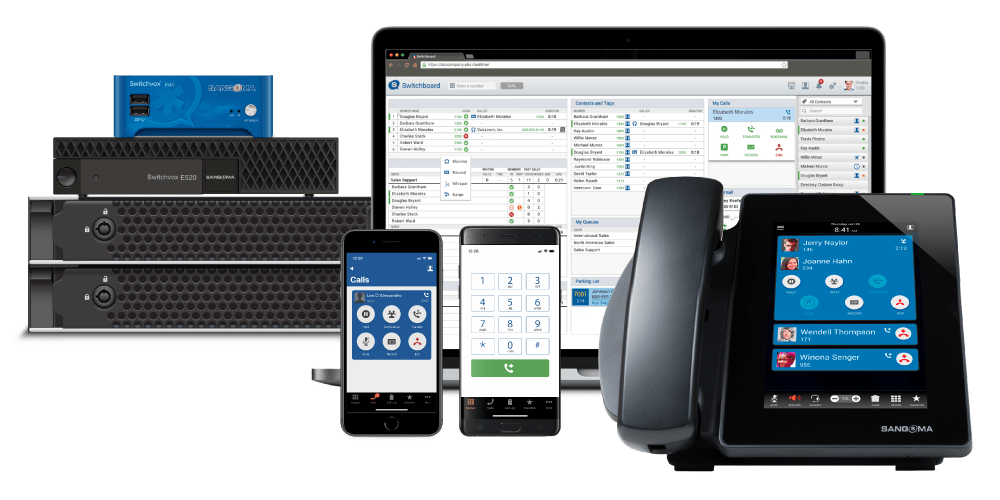 Switchvox and its power-packed, yet simple set of features will maximize your business communications. You'll be pleased to discover the power and affordability of Switchvox UC from Sangoma. See the difference – check out these demos to see why small businesses choose Switchvox.
What makes Switchvox from YTS better for your business?
It is based on Asterisk, the world's most popular open source communications platform. That means Switchvox is designed to provide all the advanced UC features your business wants but at a fraction of the cost of proprietary VoIP systems. And unlike other UC solutions on the market today, there are no costly add-ons with Switchvox. All features are included – even Switchvox Softphone. This free app for iPhone and Android makes it easy to communicate anywhere. Rounding out this complete solution are Sangoma's IP Phones, which provide the tightest integration possible for your Switchvox solution.
We're not the only ones who think Switchvox is worth a look. The UC solution continues to win industry awards for its innovative approach to improving business communications. Industry analysts recognized Switchvox as the Best Value in UC for SMBs; and it has received the Unified Communications Product of the Year Award and the TMC Innovation Award.
Sure, there are a lot of UC options on the market today – but see for yourself why Switchvox provides the best value for cost conscious SMB customers who want enterprise-class features at a price they can afford.
Hardware Appliance
Do you prefer to manage your own business phone system installed at your physical location? Our Switchvox premises-based IP PBX provides an end-to-end UC solution with enterprise-class features, designed to meet the budget of a SMB. You get the power and control of an affordable on-site solution, without the hassle of expensive add-on features or complicated licensing models.
Virtualized
Choose your own virtualized environment with VMware and Hyper-V.  Leverage failover for HA options and save on stand-alone appliance costs.
Switchvox Cloud has the same robust feature set as our on-premises phone system, but you don't have to worry about handling daily maintenance, or making a large upfront capital investment. With all features included, you simply choose a monthly payment plan that best fits your business, add the no-hassle phone rental (if needed), and let our cloud-based phone system go to work elevating your business communications.