What makes an alarm system by YTS different from the other guys?
There are companies that are pretty good at providing traditional, passive security systems.
Then there are systems provided by YTS, powered by Alarm.com with more than a decade of experience in developing innovative interactive services and home automation technologies.
Security so smart, its simple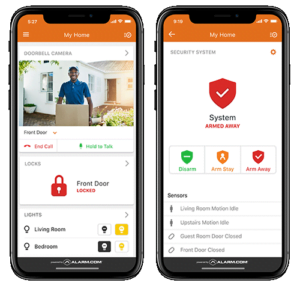 With monitoring services powered by Alarm.com, you can see and control the state of your system through a web browser or free mobile app. Through any internet-enabled device you can:
Arm or disarm your system
View system status and event history and receive real-time notifications of events
Use location-based arming reminders to let you know if you leave your house or business and forget to arm the system
View live video/photos through video cameras and image capture devices
Change or add user access codes and permissions
Plus many other features
Better Security with Dedicated Wireless Monitoring
We use wireless technology to maintain a dedicated, more secure connection, which allows our systems to send signals faster and more efficiently. No phone or internet connection required! No more concerns about cut phone lines or having no land line at all.

Patented "Crash & Smash" technology protects your system from intruders damaging or disabling the panel. Since your panel is always in communication with Alarm.com, we can detect when your system has been disabled and still alert the authorities in the middle of a break-in.
High Quality Hardware with Reasonable Monitoring Fees
We don't bait-and-switch you with the lure of a free system using cheap hardware that doesn't fully cover your property then lock you into a long-term contract with outrageous monitoring fees. Our hardware systems include an intuitive touch-screen interface, 24-hour backup battery, patented "Crash & Smash" technology, and real-time severe weather alerts.
Since our sensors are also wireless, you save on installation cost and time. All sensors have a replaceable battery with a 5-year life and are constantly supervised by the main panel to assure everything is working properly. We can also convert your existing sensors to wireless if you already have a system in your home or business.
Software-upgradable panels from 2Gig and DSC are always ready for new features with a simple upgrade. The ability to remotely troubleshoot your system brings our customer service into a class of its own.